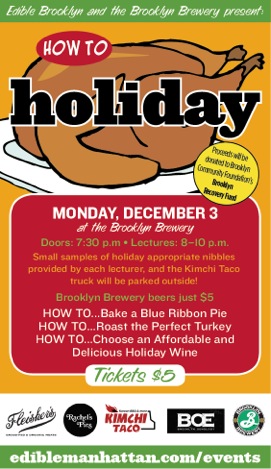 Edible Manhattan is putting on a How to…Holiday event at the Brooklyn Brewery.
Monday, December 3rd from 8pm to 10pm (doors open at 7:30pm)

With the holidays just around the corner, it's time to start talking pies, turkeys and preserves! Join us for an evening of tasty lectures from the professionals and walk away with a set of tips to make sure your holiday entertaining is seamless and delicious!

Lectures and tips from:

Rachel's Pies will teach you How To Bake a Blue Ribbon Pie

Fleisher's Grass-fed and Organic Meats will teach you How To Roast the Perfect Turkey

Brooklyn Oenology Winery will teach you How To Choose a Delicious and Affordable Holiday Wine

Come hungry, there will be food for purchase from the Kimchi Taco truck.

Brooklyn Brewery beers will be available for $5.

In the aftermath of Hurricane Sandy, proceeds from the event will be donated to the Brooklyn Community Foundation's Brooklyn Recovery Fund.
Tickets are available on Edible Manhattan!